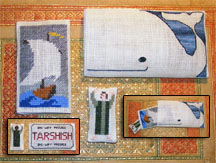 CT18 Jonah and the Whale Quiet Toy
This is a three-part story toy worked on 20 ct linen with easy illustrated instructions for two indispensable techniques: Nun's Stitch and Chain Stitch Joining. Jonah is shown on both sides of a small pillow (1.5 x 3") which slips inside a pouch with a storm-tossed ship on one side and a one-way ticket to Tarshish on the other side. This in turn fits inside the friendly whale. You'll have as much fun stitching it as your young friend will have playing with it! Wildflowers Polar Ice is available from Wichelt.com.
Chart with Thread $20.25


(100, 205, 208, 250, 280, 310, 466, 470, 530, 535, 725, 745, 810, 830, 900)
---
| | | |
| --- | --- | --- |
| It's a Neckasary because it keeps everything necessary for stitching right around your neck where it is handy on an airplane, in class, at the office, in the car, or in your favorite stitching chair! There's a magnet hidden behind the bandana lining to "park" your needle. "Orts" are thread snippets, so that pocket holds them, and the top pocket can be modified for whatever tools you consider essential. Down among the cows you can keep a collection of needles and pins. The clasp is magnetic, so no fumbling. The materials are readily available; a bandana, felt, 20 ct linen, button magnet and magnetic clasp (look in jewelry findings at any craft store or site). All the photos, illustrations, patterns and instructions are included for this easy, fun organizer! Check your stash for the Ginnie Thompson Flower Thread colors: 100, 260, 370, 745, 900. CT14 Neckasary | | |
CT10 Birdhouse Bookmark

This is a small bookmark that you can stitch in just an evening or two. It is worked on 28ct linen and finished with Nun's stitch, a completely addictive technique! Fully illustrated instructions are included.

Chartpak $6.50
Add thread
(100, 250, 436, 460, 570, 575, 900)
for $9.45



CT11 Lighthouse Bookmark

I made this design when I went to teach in Cape May for a shop called Stitch by Stitch. I think lighthouse are wonderfully romantic! Fully illustrated instructions for the Nun's stitch edge are included.

Chartpak $6.50
Add thread
(250, 255, 100, 700, 565, 720, 439, 445, 900)
for $12.10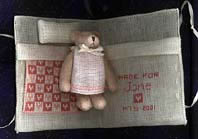 I've been told that this is the perfect "church toy." This is so much fun to make! The bear is included with the chart and everything is done on 28ct linen. You can make the nightgown blue or pink. The pillow is covered with Cobblestone stitch and the little quilt can be tucked under the turned-down "sheet" or folded and put away in the pocket. The front of the pocket gives you a place to say "Stitched for" someone's name and to add your initials and the date. Edges are quickly finished with Tailor's Buttonhole stitch and the whole project folds to a convenient carry case. Complete illustrated instructions make it easy!
Chartpak is $14.00
Add thread (100, 200, 208, 280) for $5.40




CT6 Hedebat

Here's a fun intro to a beautiful form of drawnwork derived from Danish Hedebo, but with a very modern subject!
Work the outline in two rows of chain stitch, cut pairs of threads inside the outline and simply wrap the remaining threads. The cross stitch border of bats can be added first or last, your choice. Stunning mounted on black matboard!
Chartpak $8.50
Add thread: (1 skein of #555) for $1.35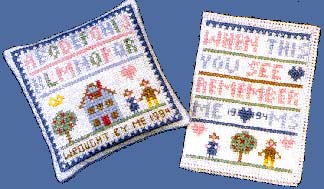 Sampler Needlecase & Pincushion
Learn Chain Stitch Joining and Nun's Stitch from the easy illustrated instructions. The sampler theme will steal your heart! Worked on 28 ct linen.
Chartpak $10.50.
Add thread: (208, 290, 310, 418, 565, 570, 720) for $9.45
A to Z Chatelaine

There are 26 hearts, each a different technique, arranged alphabetically. A/Assissi, B/Beads, C/Chain Stitch, D/Dove's Eyes, F/Flat Stitch, etc. Worked on Stitchband from Zweigart. A showcase of your skills! Easy step-by-step illustrated instructions.

Chartpak $14.00
Add thread (245, 575) for $2.70
This warm and inviting sampler is enhanced by Hardanger webs known as wrapped bars with Dove's eyes. Complete instructions are included for beginners. The top and bottom borders are satin stitches that beg to be stroked in the soft, rich colors of Flower Thread. Mill Hill Ceramic buttons complete the picture, but are not included in the chartpak. A heartfelt gift for yourself or a friend!

Chartpak with complete instructions $8.50.
Add thread (240, 250, 418, 460, 535, 700) for $8.10



CT5 Friendship Is...





CT7 Fruits of the Spirit Ornaments

Stitch these on your favorite tea-dyed type of 28 ct linen and choose your two favorite colors. They can be for year-round use or just for Christmas. They are finished with Chain Stitch Joining, fully explained and illustrated in the chartpak, all for $8.50.
Add thread (250, 575) for $2.70